A tree structure allows to quickly navigate inside and between publications.
You can insert 4 types of links in PPT:
External link: opens a website in the in-app browser in the d!nk app. Note: this will only work when the app has a connection to the internet

A link to another slide in your PPT
For the top-level navigation structure, we recommend adding your links in your master slide to save time & effort. Learn about master slide here.


Link to the last visited slide

Link to another publication: jump to another publication or PDF without the need to go to the kiosk.

Expert function: link from PPT to a Story Composer publication
Note: For information about inserting a PDF go to http://support.dink.eu/hc/en-us/articles/200325311-How-to-insert-a-PDF-in-your-interactive-PowerPoint
General: How to insert a link in Powerpoint?
Select the element (image, shape) and go to insert - Hyperlink


or,
right-click on the element and right click "Hyperlink..."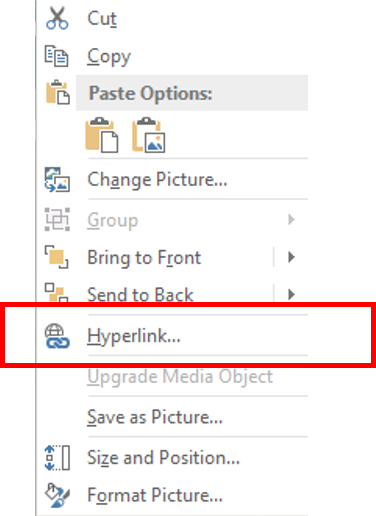 1. A hyperlink, which will go directly to another website.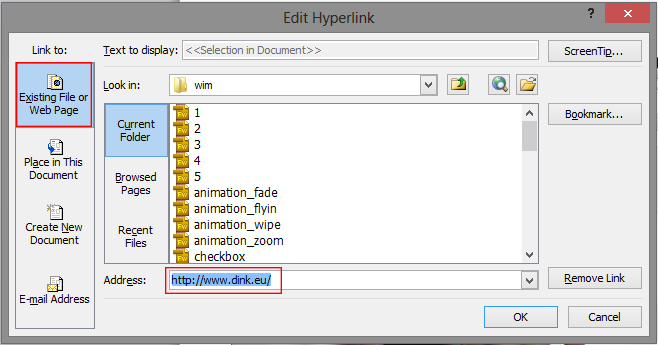 Click "Existing File or Web Page" - Current folder and type in the url.
2. A hyperlink link in your PPT (to link from slide to slide) 
Click "Place in This Document" Choose the Slide you want to link to.
Hint: Scroll up the Slide Titles and choose for First, Last, Previous or next slide to make it easy to navigate!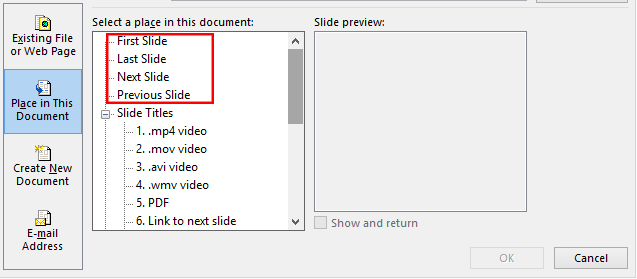 Note: Hyperlinks in grouped elements like smart-art object are not supported by our platform. In order to make this work, you need to convert the smart shape to separate elements.
3. Actions: link to last visited slide
Sometimes, you have a slide that is linked from multiple pages (for instance a link to a disclaimer on each slide). Inserting a link will always bring back to a fixed slide. You can go back to the slide you came from by using actions.
Go to insert > actions > choose the action "Last slide viewed".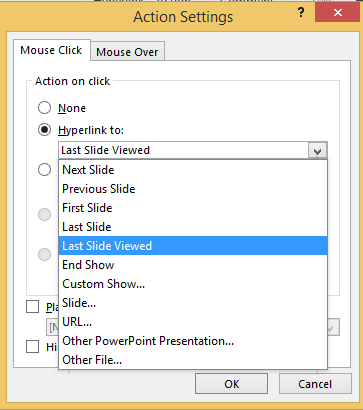 4. Link your PPT publication to another publication or PDF
Select "Existing file or Web Page" and browse for another powerpoint on your computer. Make sure it's a .pptx file format.
Tapping the link in the app will then open the other publication.
If you do not select a bookmark, the linked publication will open on the first slide. you can select another slide to open by clicking "Bookmark" and selecting another slide.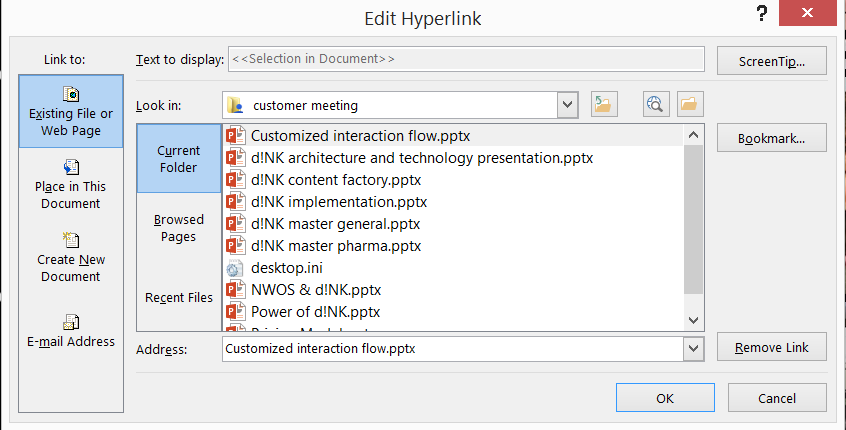 Make sure you've converted that pptx file as a .dink file with the d!nk plugin and uploaded the publication to the platform as well.
The Display name can be anything you want it to be. The name of the linked publication in the Portfolio Manager needs to be the exact same name as the original .pptx file (without the .pptx extension).
Note: You need the PowerPoint version 2013 to be compatible while using hasthags or pounds in the links. In earlier versions, the bookmarks are be removed.
To link your PPT publication to an existing PDF file in your kiosk, type the following in the addressbar: 
[Admin name of publication]#1
example: AdminNameOfpdf#1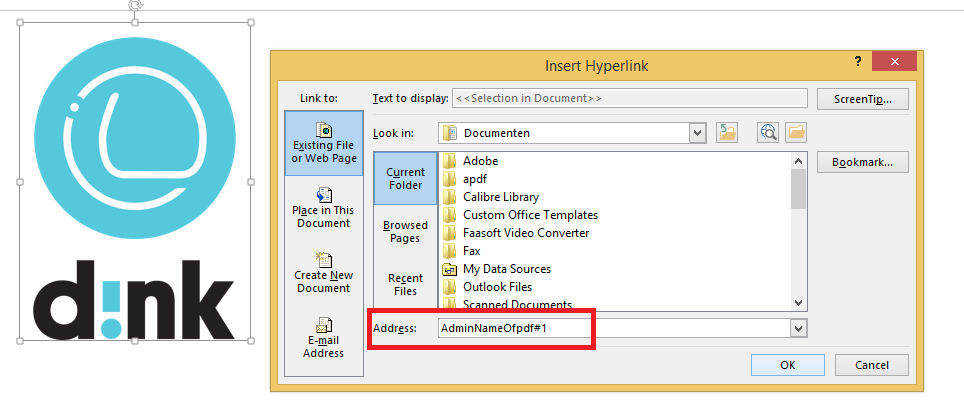 ! #1 is mandatory to be added.
Good to know:
You can change the priority download of kiosks or publications if you want to make sure that all linked files are automatically downloaded & updated.
- Priority download for kiosks click here.
- Priority download for publications click here.
5. Expert function Link your PPT publication to an existing Story Composer publication.
Repeat the steps for 1. linking to another website.
In the address bar type the following: 
[Admin name of publication]#[storynumber]