Different devices have different screen sizes.
When using the same presentation on different tablets it can lead to grey banners at the left and right side of your beautiful slides.
You can optimize your PowerPoint settings for optimal image quality by changing the slide size to what you are using in the company. If there are different devices in use, you can use the 'Responsive Design'-function to create presentations that are presentable on all devices.
Go to the 'Design' tab and choose 'Slide Size' > 'Custom Slide Size...':



In the pop-up, select 'On-Screen Show (16:9)' and click 'OK':




Next, go to the 'SalesMatik-tab and choose 'General Options',
where you can activate 'Enable Responsive Design'.




You will now see 4 colored squares on your slides.



These colors represent 4 different slide sizes:



Content in the red square will be visible on iPad (size 4:3)
Content in the yellow square will be visible on Microsoft Surface Pro 3 & 4 (size 3:2)
Content in the purple square will be visible on some Android tablets (size 16:10)
Content in the green square will be visible on Microsoft Surface Pro 2 (size 16:9)



In case you have multiple devices in the field, you can put all text and images inside the smallest screen size that is used and you let the background continue for the entire slide, as the example below shows:


You will then see this result on iPad (4:3):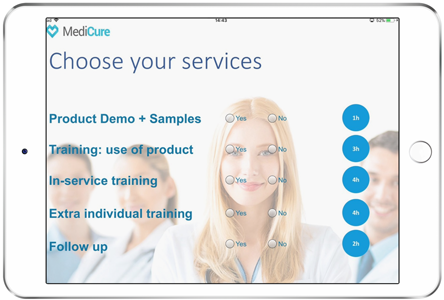 And this result on a Surface Pro (3:2):