You need to insert a submit button in order to collect data from your surveys.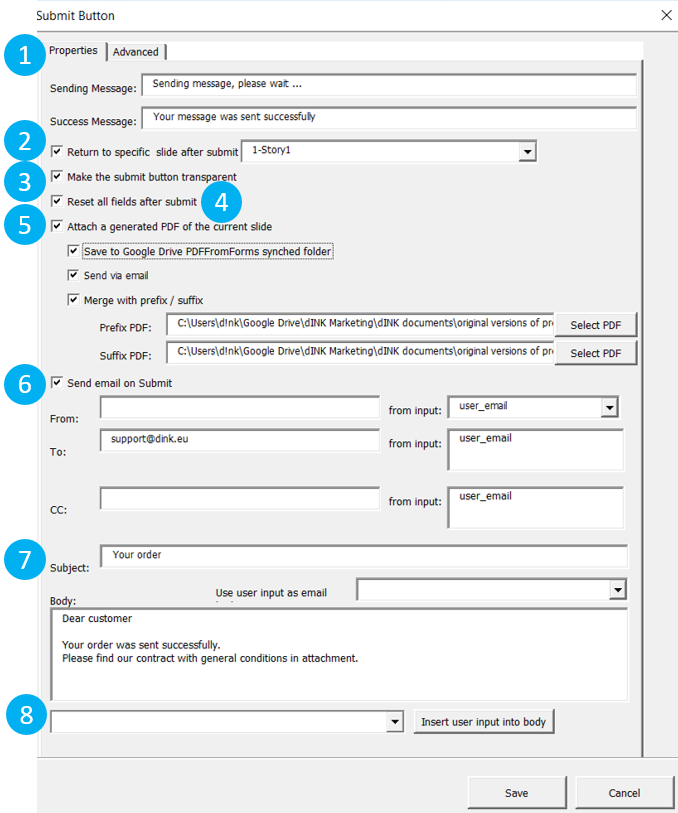 Define your sending message: The message that is shown to the user while sending the data. Define your success message: The message that is shown to the user when the data is sent.
Return to specific slide after submit: If checked, the user will be directed to a specific slide after the data is sent.
Make it transparent: If checked, the submit button will change into a transparent 'hotzone' to fit in every design. Drag & drop your hotzone on top of your own submit button or logo to create your own custom form.
Reset all fields after submit: once you click "submit" all input by the user/client will be erased so that you can start a new session with someone else.
Attach a generated PDF of the current slide

Save to Google Drive folder: If you've synced your enterprise with Google Drive then all submitted PDFs will automatically be stored in the folder PDFFromForms.
Send via Mail
You can provide a prefix & suffix PDF to create your custom forms.

Send email on submit. 

If checked, this will generate a pre-defined email on submit. You can manually fill in the fields but you can also make the fields dynamic by selecting the from input fields. 
You can use multiple email addresses if you seperate them with a semicolon.
OR if the Account Hub is enabled the document will be added to the account hub once you click "submit". Discover more about the Account Hub here.
If you've generated a Document with our Document Generator, this e-mail template will be used to send out an e-mail.

Compose your own custom email message.
Based on your input fields in your presentation you can insert them into your email body.
*Below you see an example of a submit button that generates a PDF of the slide in the presentation. The PDF is directly inserted into the mail app of the tablet, ready to be sent.