We advise the following procedure when using large background images for creating interactive publications using our PowerPoint Plug-in.
Specifications
Images should be in PNG, 24 bit, at least 2048*1536 px for iPad and 2736*1824 px for SurfacePro.
1) Open any .PPT and go to Insert -> Photo Album -> New Photo Album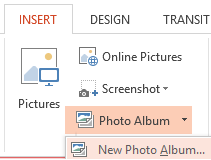 2) Select at least 1 image from the set of background images. The PPT picture album is created, in 16:9.

3) Go to Design -> Slide Size and select "Custom Slide Size".


 
Next, from the dropdown select "On-screen-show (4:3).
Change the height to 18,55cm (width is correct at 25,4cm). As we need to take into account the 20px of the ipad status bar.

Click OK and then "maximize".


4) Now you can delete all the slides you have in this presentation, we will insert the images all at once.

5) Go to insert -> Photo Album -> Edit Photo Album
6) Select all the background images. You'll need to check all checkboxes in the list "pictures in album". Press the button "File/Disk" to search for other pictures.

Hit "update" and the slides are generated.