The following animations are supported by d!nk:

You can set the type of direction and duration for each of this animation. 
The plugin will automatically change not supported animations to fly in.
We do not support any kind of transition animation or delay.
For the speed of the animation we currently support 3 types:
Fast duration in PPT is smaller or equal to 0.5 sec

Normal duration in PPT is between 0.6 and 1.4 sec

Slow duration in PPT is 1.5 sec or higher
Select "with previous" as the start moment of the application. "on click" is not possible in the dink app.

For all unsupported animations and more complex setups, there is a work-around to create beautiful animations by use of video, with hidden controls and autoplay setting.
The main idea is to convert the animation you'd like to have to a video and insert it in your presentation. 
Step1: create the animation in PowerPoint.
To have the best outcome, you should change the size of your PowerPoint to the size of your animation.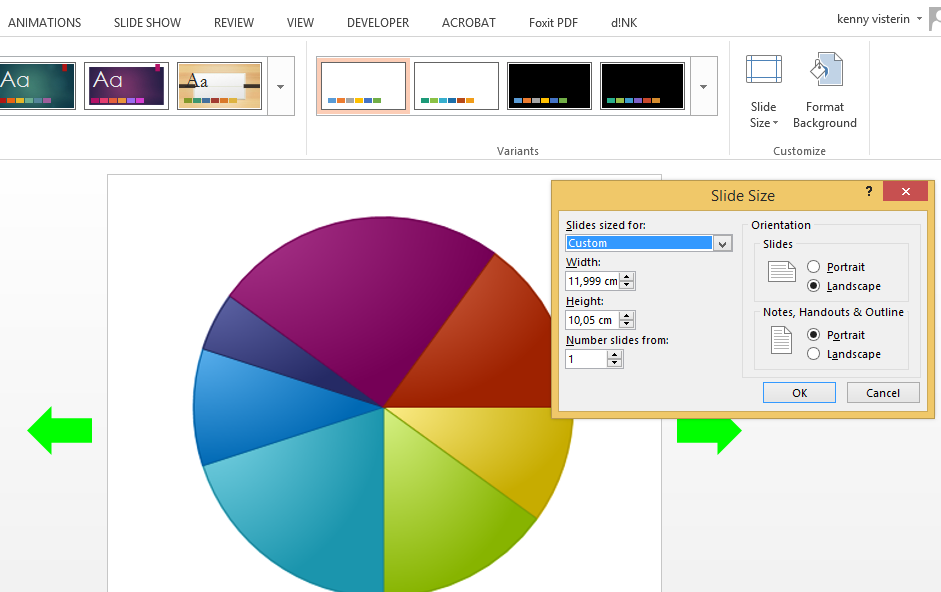 Go to Design > Slide Size > Custom slide size.
Next you can add the animation that you'd like to use. For example the "wheel" animation.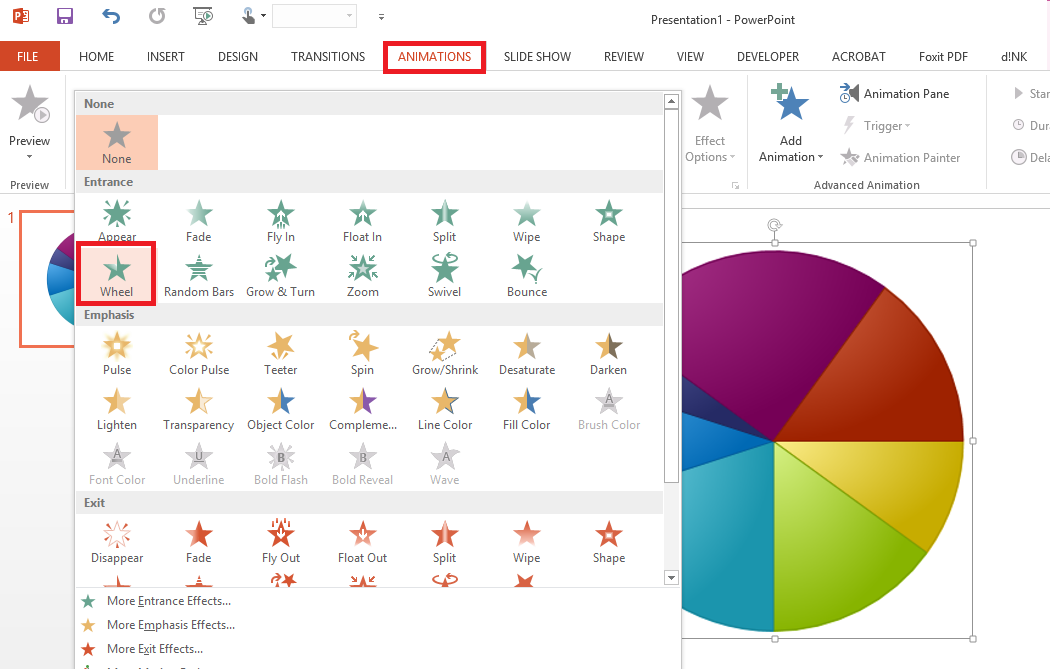 Go to Animations > select the drop down button to see all the animations > Wheel
Step2: save the animation as a video
If you're happy with the results, you can save the animation as a video.


Go to file > save as > choose .mp4
It could be useful to crop your video to the size of the animations. This is a good online tool for cropping video: ezgif.com/crop-video 
Step3: insert the video in your PowerPoint.
Go to insert > video > choose your video.
If you want the video to start automatically than just change the options.

Select the video in the PowerPoint and go to > playback > video options > start automatically
Hide Media Controls of your video
You can hide the controls of your video to make it look more like an animation.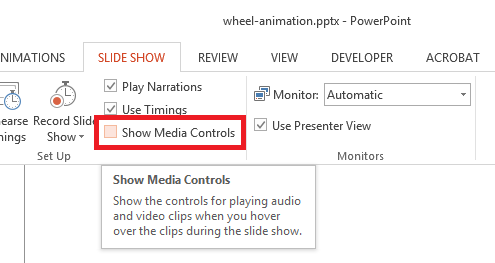 Select the video in the PowerPoint and go to > Slide Show > and uncheck "Show Media Controls"
Finally, create your PowerPoint to a .dink file and upload it to the admin. You've now enabled an unsupported animation in your app.
You can download the final result of the wheel animation here.
Enjoyed reading the tutorial?
You may contact us for new cases or project issues at support@dink.eu