Click on the 'Settings'-icon top right of your screen to manage all of your enterprise settings: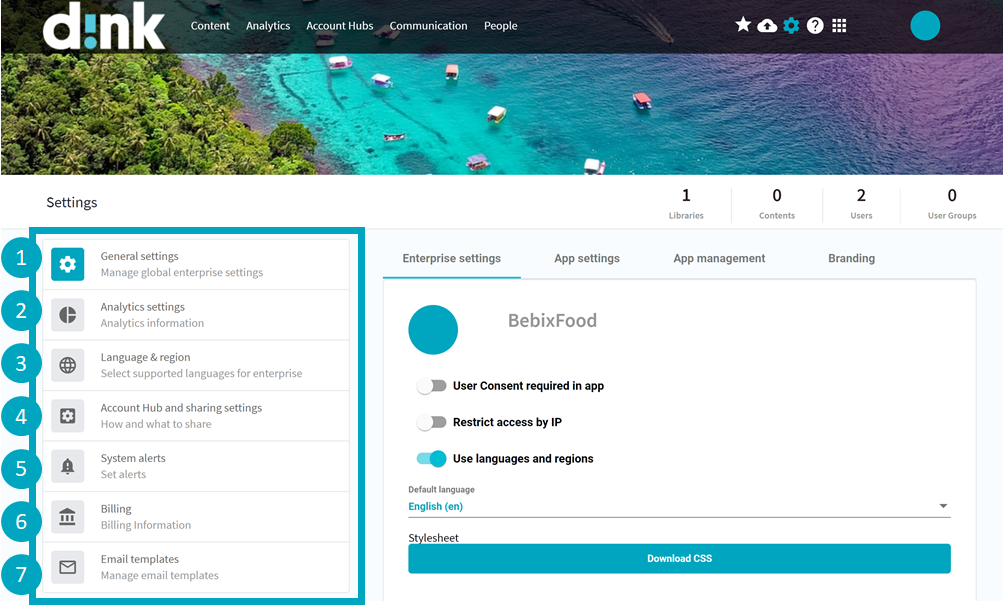 1/ General settings
Here you can find an overview of multiple options that can be activated/deactivated. It is also the place where you can choose the colors of the app and the branding of your d!nk tools.
General settings that for sure can use some additional explanations:
User Consent required in app (tab Enterprise settings)
Depending on privacy policy, it is possible to require users to agree to the User Terms of Use when they log into the app.


Restrict access by IP (tab Enterprise settings)
For additional security, access to the app can be restricted to certain IP addresses, typically only accessible from VPN access. Format of IP addresses: a comma separated list of strings without quotation marks, for instance: 193.244.33.0/24,193.244.32.0/24


2-way user authentication (tab App settings) adds a confirmation step to each user login.


Flatten fillable PDF's (tab App settings)
When PDFs with fillable (= editable) fields are sent out by mail or added to the account hub, this setting offers the option to 'flatten' those fields into non-editable text.


Custom Buttons (tab App settings)
If you want to offer users the option to open another app (or go to the direct link in the App Store if it is not yet installed) out of the SalesMatik app homepage, you can add them here.
2/ Analytics settings
In this menu you can enable the users statistics and choose the default timeframes that need to be used in the 'Analytics'.
3/ Language & region
Languages and regions that are applicable for your enterprise.
Also the place where you can manage the legal notices per language to be displayed to the user when a confidential (= internal) publication is opened.
4/ Account Hub and sharing settings
How can documents be shared by your users? More details about the mentioned options you can find here.
5/ System alerts
Complete the 'System alerts' to help the d!nk team update you for the OS systems that you are using. If an update is needed for the indicated OS systems, all enterprise admins will receive a message, together with the mail addresses that you enter under the 'new receiver'.
6/ Billing
Overview of your billing information.
7/ Email templates
All email templates that can be edited:
Invitation mail user
Invitation mail manager
Reset password
Login verification code
Login confirmation