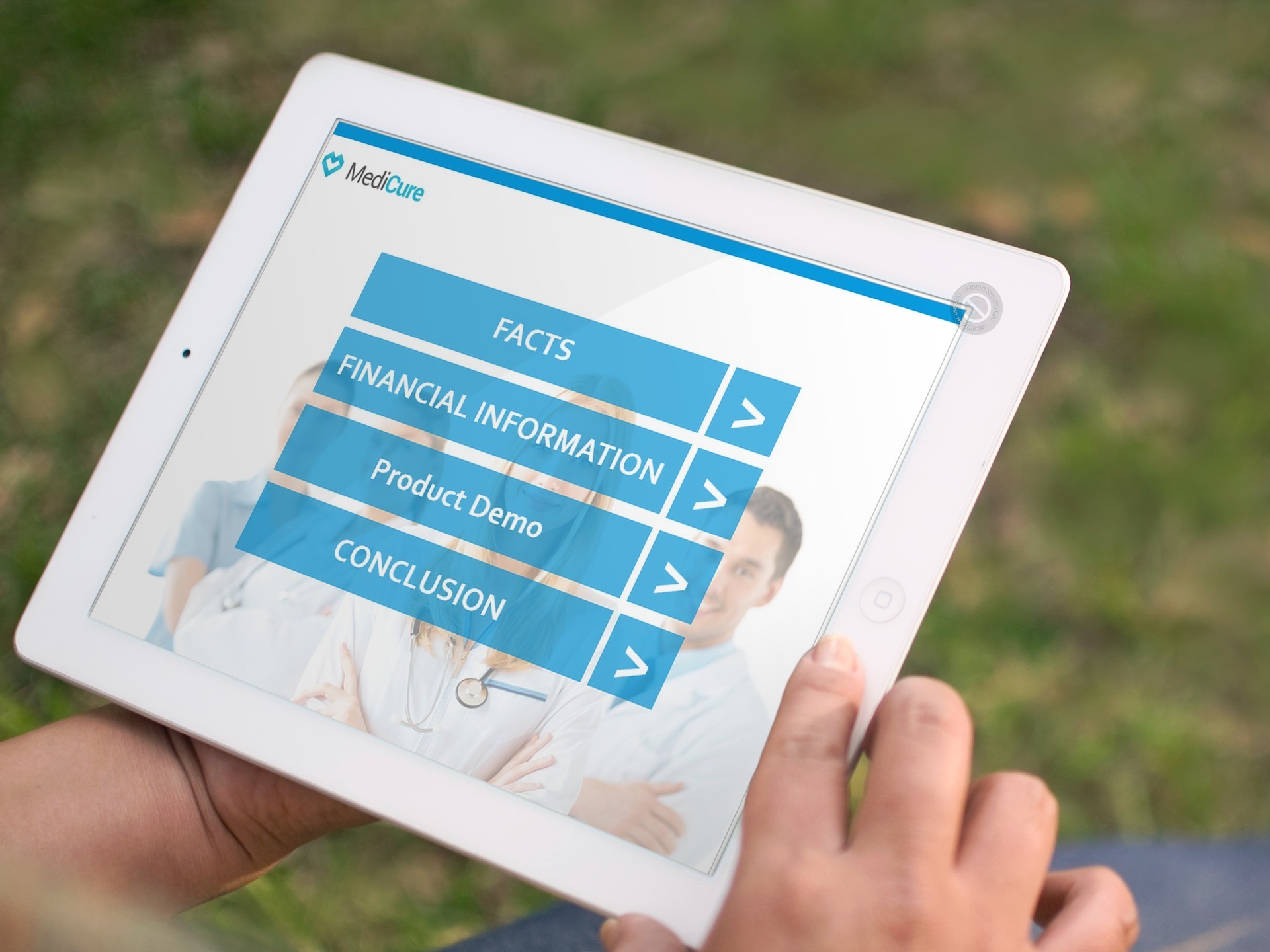 In this case you will learn how to create an interactive publication, using our PowerPoint Plug-in.
We explain the following basic functions:
Links between slides using a navigation
Links to PDF documents
Adding videos in the publication
Introduction
An interactive pitchbook is a publication with more interactive features than only showing images or displaying a PDF. Pitchbooks encourage sales to engage with customers and gather feedback.


Creating a navigation
More information about links can be found here.
We want the following subjects to be linkable in our publication:

Facts
Financial information
Product demo
Conclusion

Start by creating the navigation. We used the rectangular shape.

Continue by creating all the subjects in a navigation: 

Create the first linkable slide (slide3):

 

Link the navigation button "Facts" to the right slide:
Rightclick the shape "Facts" > Hyperlink

Select "Place in this document" > Choose for the right slide (slide3) > press Ok

We don't want to display the navigation on every slide, that's why we'll include a menu icon that navigates to the navigation-slide, so we can call it up whenever we want.

We use the following icon:


Add a link to the menu icon
Right click the icon > Hyperlink > Place in this document > Choose the right slide > Ok





Insert PDF documents in the publication
More information can be found here.
You can link PDF documents to images, text, shapes or objects.
We will create a "download button" linked to a PDF:

First, create the download button, we used a shape to do this:

Next, provide a link to a PDF document on your computer.

Right click the shape > choose for Hyperlink



Existing file or web page  > Choose the right PDF document & press Ok

The d!NK PowerPoint Plug-in will include the linked PDF in the HTML5 when we create the publication. This makes the PDF(s) always available on your tablet device without manually needing to upload them.
Take into account that we do not support secured PDF's. Read our PDF guidelines for more information.


Insert a product video in your publication
More information can be found here.
Insert > Video > Video on my pc

Optional: you can define your own starting screen. Learn more here.


The advanced code of our PowerPoint Plug-in will render the video to the right size & format when we export the presentation. That's why videos are also always available (online & offline) without manually needing to upload them. 


Enjoyed reading the tutorial?
You may contact us for new cases or project issues at support@dink.eu