The d!nk environment consists of different elements: To feed the sales app, work with it in the field or to extract data for insights or towards your customers.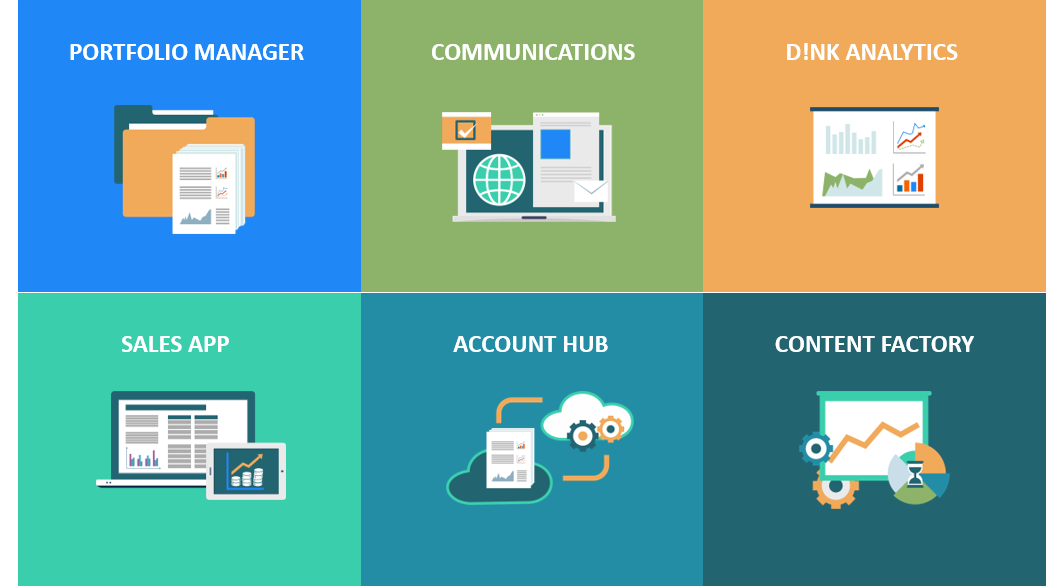 The Portfolio Manager is the powerful administrator tool to manage all content, users and managers using the d!nk environment. The platform contains multiple useful features to make the sales interaction as effective as possible. Discover more...

Communications can be pushed out via the Portfolio Manager to send out relevant information to the right sales person in the field. Say goodbye to corporate newsletters, intranet and mail blasts. The newsfeeds, launch campaigns and notifications tailored to each sales person's need-to-know keeps them up-to-date of best practices and must-know updates about customers, competitors and products. Discover More...
d!nk Analytics contain all the information to give you insight in the actual usage of the sales publications. The statistics enable you to improve sales publications and coach your users. Discover more.
A powerful Sales App to engage with your customers. The d!nk app runs on iOS (iPhone & iPad), Android and Windows 8/10 devices. Discover more...
The Account Hub is the best way to connect with your customer beyond the sales meeting. Simply share your content while using the App and the Account Hub will be created. Increase the sales interaction without administrative slack and getting buried in emails. Discover more...
The d!nk Content Factory enables you to create, distribute and manage your mobile sales tools from PowerPoint and push those to the tablets of your team! Easily install the plugin and use the d!nk functions in a drag-and-drop interface. Discover more...